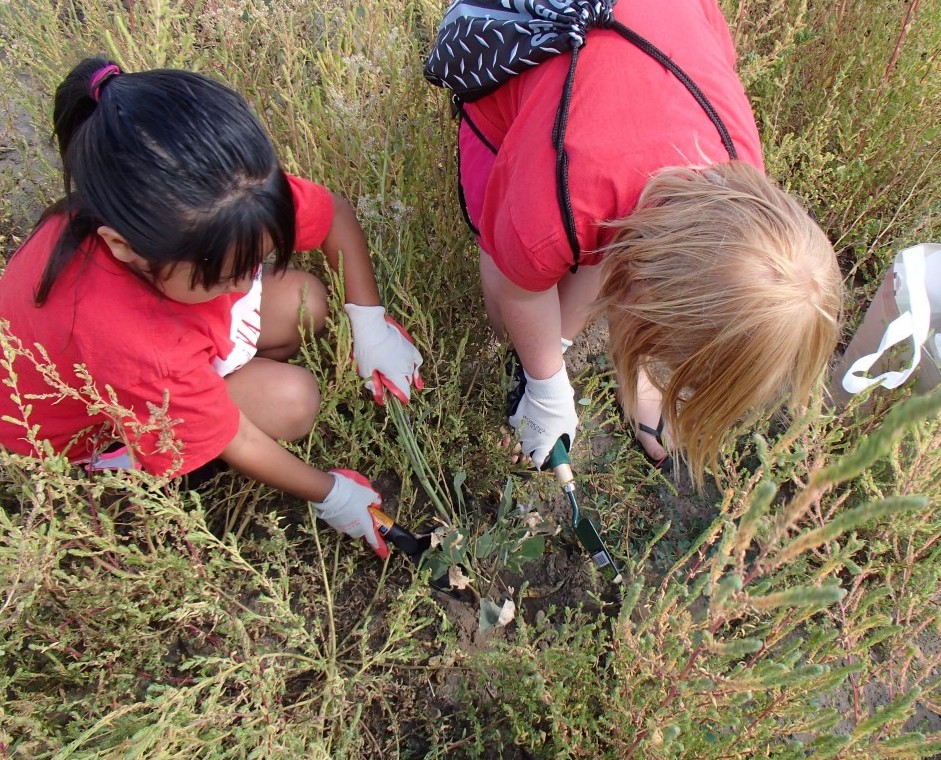 High Valley Community Center youth pull perennial pepperweed


On Sept. 5th the staff and youth at High Valley Community Center in Del Norte wrangled a vicious pest in their midst – perennial pepperweed (aka tall whitetop) – as part of the Weed Management Association's Pulling for Colorado grant.
"Their work along with that of Centauri High School Future Farmers of America (FFA) are important steps in building awareness and doing the necessary work of weed management for healthy agricultural, wildlife habitat, and recreational lands," said Michelle Le Blanc, SLVWMA's coordinator. "Those kids were on a mission against that pepperweed."

More than 20 kids, ages five to 12 and 10 adults, chopped the perennial pepperweed, dug it, and pulled it until they had filled more than a dozen large lawn and garden bags full of the noxious weeds. The weed had taken over the area immediately in front of the solar panels near the Town of Del Norte's shop area on the west side of town.
Before they started Don Henderson, Certified Noxious Weed Specialist and presents at workshops for both private and commercial applicator licensees, helped the youth identify several noxious weeds like perennial pepperweed, puncture vine, and Canada thistle.
The State of Colorado classifies perennial pepperweed, which is found in riparian areas, valley bottoms, and seasonally wet areas, as a List B noxious weed. The 11th edition of The Noxious Weeds of Colorado notes that it is "especially prevalent in the San Luis Valley …"
According to the Colorado Department of Agriculture, "Perennial pepperweed reproduces both by seed and by roots; root fragments as small as 0.5 inch can grow into new plants. It alters ecosystems by excreting salt through the leaves and deposits it on the surface soil. Because most plants do not tolerate high saline concentrated soils, the entire plant community and diversity of the area changes."
Back in July, the Centauri High School FFA Chapter helped to conserve the Valley's scarce water resources. Along with their sponsor Principal Tyler Huffaker, the six FFA members found, flagged and prepared 60 new or small salt cedar shrubs (aka tamarisk) for spraying over a 20-acre area. While salt cedar's feathery pink blossoms and shrub-like structure make beautiful ornamentals, it also uses about 200 gallons of water a day which is very dangerous in the San Luis Valley's arid climate.
Once the plants were flagged, a certified applicator sprayed the stumps with herbicide to permanently kill the plant. Myron Price, Conejos County Weed Coordinator, also lead a discussion about other noxious weeds present in the area including perennial pepperweed, Russian knapweed, bindweed, and downy brome, (aka cheatgrass). Each FFA member received a new San Luis Valley Weed Management cap and a weed identification book prepared by the Colorado Weed Management Association. Lunch at Pikes Stockade was provided by the Conejos County Weed District and the San Luis Valley Weed Management Association.
Both of these projects were funded by Pulling for Colorado, a grant program sponsored by the Colorado Weed Management Association. The San Luis Valley Weed Management Association, the Conejos County Pest District, and the Rio Grande and Center Conservation Districts provided lunch, water, snacks, and caps for everyone working on the project.
If you have questions about weeds or weed management, contact the SLV Weed Management Association Coordinator at 719-588-3268 or via email at This email address is being protected from spambots. You need JavaScript enabled to view it.. Our website is www.slvnoxiousweeds.org. Information is also available through the Colorado Weed Management Association's website www.cwma.org and the Colorado Department of Agriculture's website www.colorado.gov/ag/weeds. Photos courtesy of Colorado Department of Agriculture.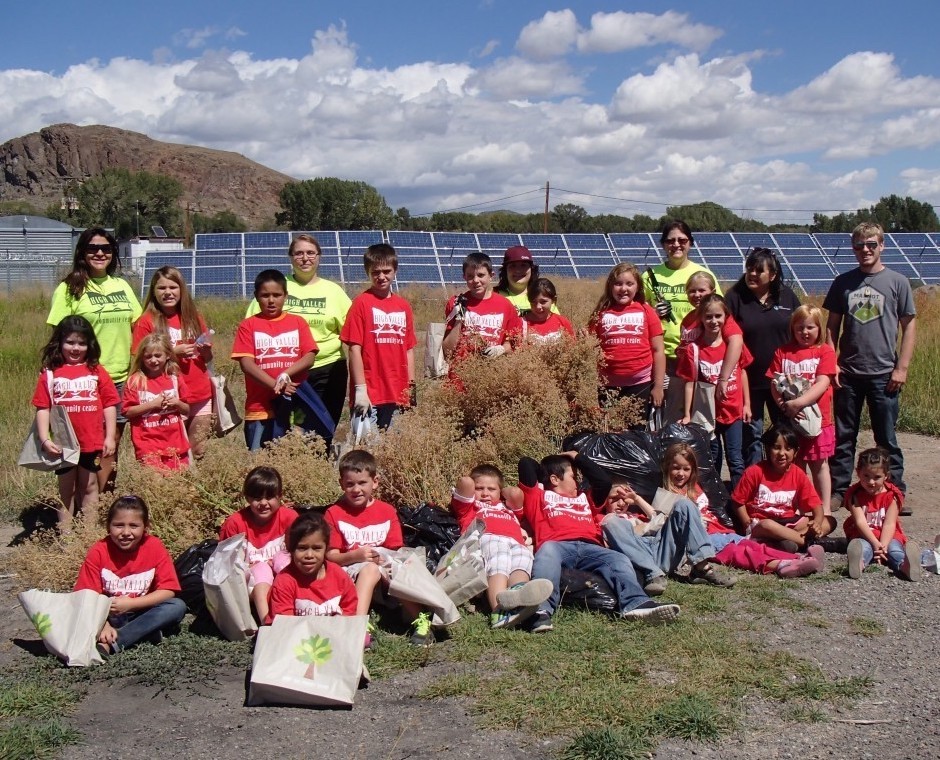 Twelve bags of perennial pepperweed were destroyed.
The SLV Weed Management Association is a public and private partnership created to promote awareness and management of noxious weeds through local and regional initiatives in the SLV area with the vision to cooperatively manage and/or control noxious weeds throughout the San Luis Valley Management Area regardless of geographic or political boundaries to promote ecological and economic values.